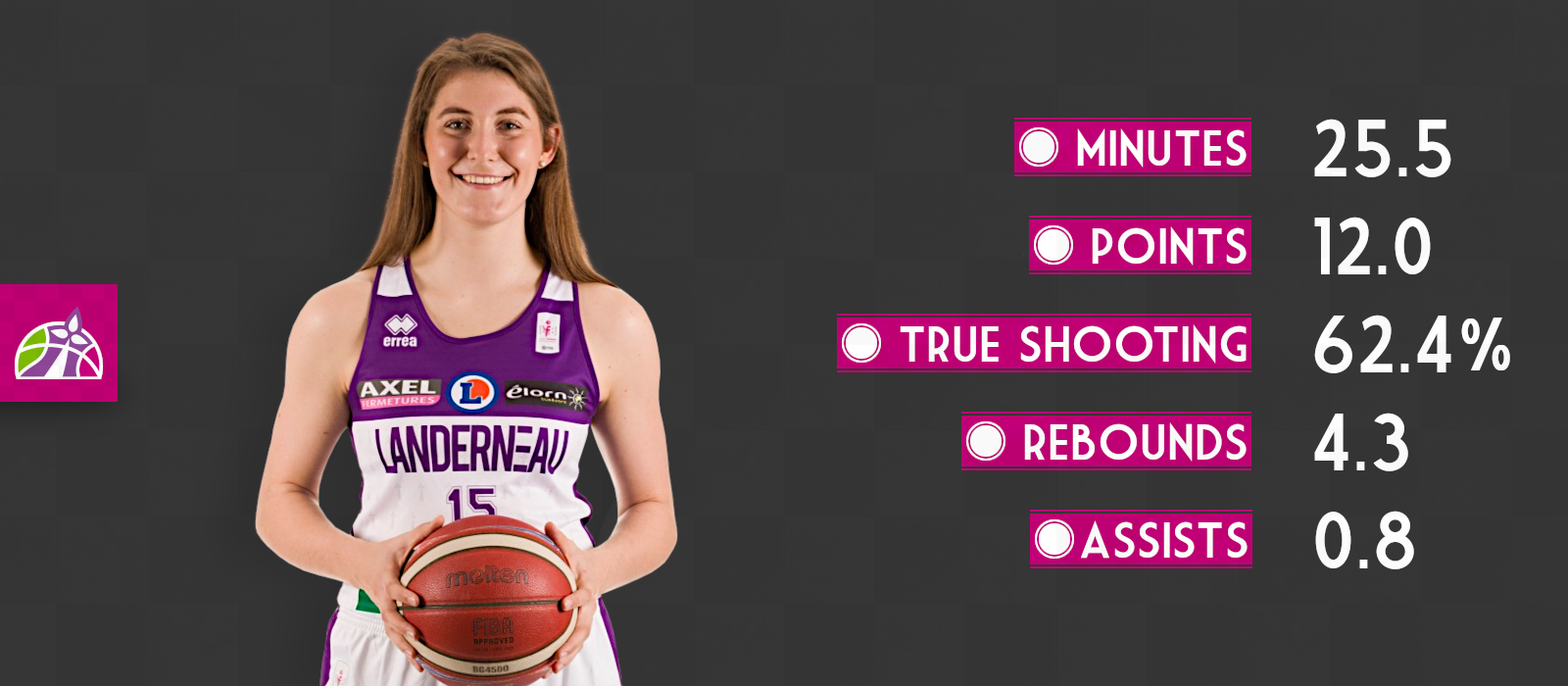 Match reporté! – words you had to read over and over again in context of matches of Landerneau Bretagne Basket. Because of the CoViD-19 pandemic, a whole array of Ligue Féminine de Basketball games had to be postponed, so that Luisa and her team were only able to play four games thus far (seven were scheduled as of today). Les filles de Breizh ("the girls of Brittany") started out 2–2 and are currently in the fourth spot in the league table. A constant member of the starting five: Luisa Geiselsöder.
The first game in France was the highly talented center's first game in a league outside of Germany. So the initial question was: How well can the 20-year-old transfer her MVP caliber performances of the last DBBL campaign to the stronger and more competitive French league? Especially in terms of physicality, the 6'4 pivot had a lot of new challenges to face.

The scouting department and coaching staff of the Dallas Wings will probably have felt a lot of joy watching their 21st pick of the 2020 WNBA Draft. The German international was able to maintain the remarkable efficiency – in her first month at least – she had shown in Nördlingen. 
Although the volume has gone down a bit (12.8 FGA in Germany to 9.3 FGA in France), the improvements the European youth champion of 2018 made in terms of her true shooting is still worth noting: She went from 60.7% in the DBBL to 62.4% in the LFB. Her field goal percentage has been consistent as well, 56.8% of her shots found the bottom of the net in October. This resulted in a scoring average of exactly 12.0 PPG.

Luisa's offensive skillset is certainly nothing she should be ashamed of: She's aggressively looking for mismatches in the post and her own shot, asking for the ball vehemently as soon as she's established a good position down low. In addition to her efficient finishing around the rim, she can rely on her hook shot with either hand and a sweet stroke from midrange. Her signature (at least her favourite, as she told us) move is spinning around or away from her defender. She can definitely improve in the pick and roll, especially when it comes to making herself available for passes. A part of the blame has to be put on her team mates, though, as the relatively small point guards sometimes struggle to find her with their passes.
To win the big games you must get to the free throw line. – Rick Majerus
Her rebounding definitely needs some improvement as well (4.3 RPG). The center also struggled with foul problems from time to time (3.5 per contest), which cost her the chance to play more minutes. Coach Stéphane Leite is a firm believer of sending those players to the bench. On a positive note: As soon as the former XCYDE Angel returns to the court, she's eager to make an impact. You can tell she wants to be involved in each and every possession of the game. On the other end of the court, she could definitely head to the free throw line more often, as she's only drawn 1.5 fouls per game thus far. Those resulted in 1.8 FTA – a relatively small number compared to her 5.8 shots from the charity stripe in the DBBL.

It remains to be seen, how efficiently Luisa will be going forward – especially in the EuroCup, which will start in January 2021. How will she fare against routined and international elite bigs? Will she be able to cope with different types of opponents? How will her defense develop?
Without a doubt, the 20-year-old has the potential to be a very good player in the (near) future. Her outings in the French top tier have definitely added to our excitement and have left us wanting more.