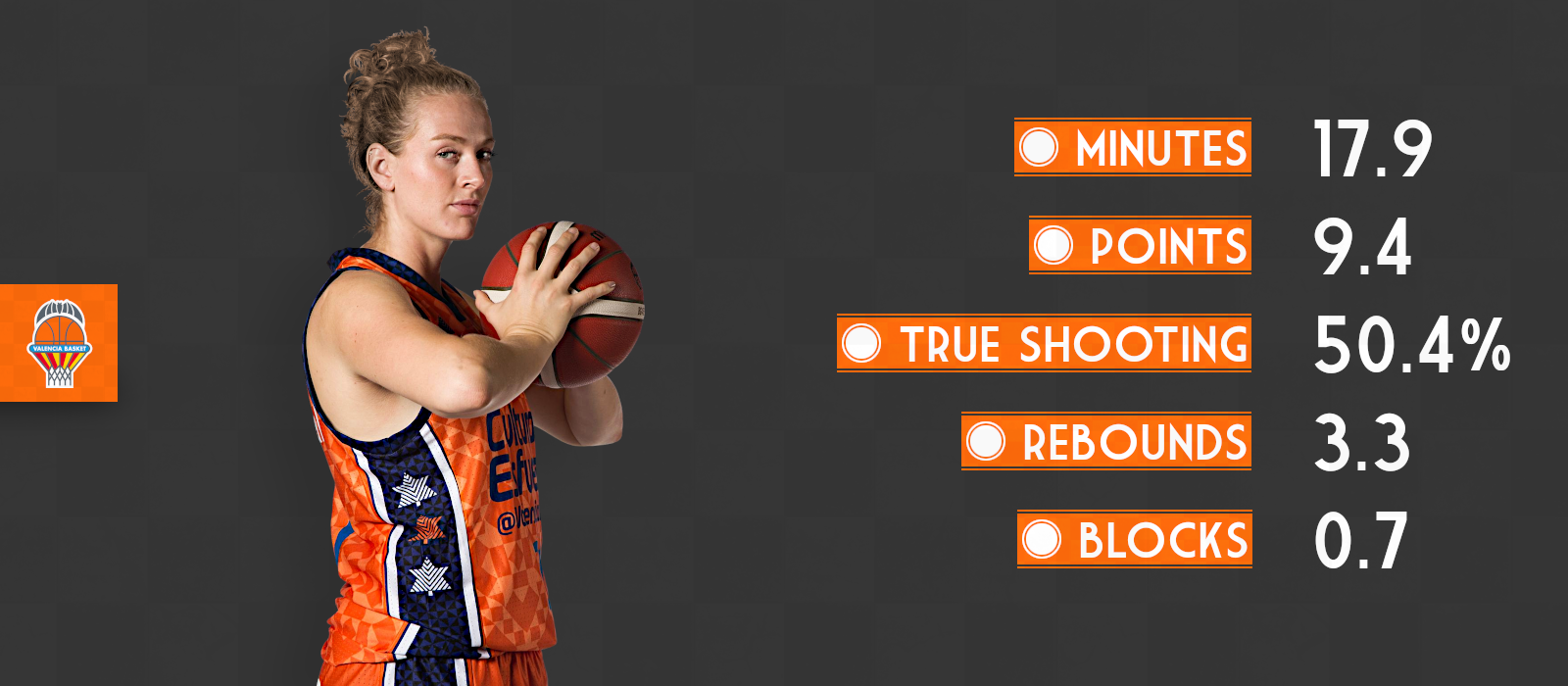 After finishing in fourth place last season, Valencia Basket are on an absolute tear from the tip-off this year. The team around WNBA veteran Rebecca Allen (New York Liberty), who's played some spectacular games, earned nine wins in nine games thus far. The only other team able to string together a run like that were EuroLeague participants CB Perfumerías Avenida.
Another key contributor has been German international and fellow WNBA player Marie Gülich bei. It is the 26-year-old's third team in Europe, after spending one season each with Reyer Venezia (Italy) and Arka Gdynia (Poland).

The Oregon State University alumna (Go Beavs!) is coming off her third WNBA season, having represented the Los Angeles Sparks in the IMG Academy "Wubble". She's regarded as one of the best defensive bigs in the Spanish Liga Endesa Femenina. Her impact surpasses the classical measurements of steals and blocks: Time and time again she makes it harder and more difficult for opponents to score, altering shots especially around the rim. The center makes good reads and quickly reacts to the flow of the game. Small elusive guards sometimes get by here, but she definitely has the speed and agility to recover, always threatening a block from behind with her long arms and good timing.

Marie is putting up roughly the same numbers as she had in her last season in Europe. 9.4 PPG in the LFE are almost identical to her 9.5 in the Polish Basket Liga Kobiet and 9.3 in the EuroLeague. Conspicuous: At the moment, Marie is playing less than she did a year ago: 17.9 minutes per game in Spain vs. 21.2 in Poland and 25.8 in the EL. Every minute of action counts, though, as it is important to find a rhythm and to actually play in order to improve and make adjustments if necessary. A potential brightspot: Since the Valencianas mostly dominated their domestic competition, head coach Rubén Burgos split the playing time quite evenly among his players, giving especially younger athletes like Raquel Carrera more chances to play. This might change in the EuroCup, though, when Marie's experience and defense should give her the edge over her competitors.
Looking at her shot attempts (8.7 per game), the curve is slightly going up – but not in terms of efficiency. After eight games (small sample size!) her true shooting ranks at 50.4%, which is far from Marie's Gdynia numbers (almost 60% in both competitions). The German international also is notoriously low in free throw attempts (only 1.1 per game). There's definitely room to grow, but Marie's a hard worker and a tough competitor – she'll be fine!

One of Gülich's biggest strengths is her footwork: She has an array of fakes at her disposal, sending defenders the wrong way and making it tough for them to deny her the opportunity to ger shot off. The pivot likes to spin to her left hand as well. She's setting good blocks in the pick and roll and she's a good finisher in these situations as well.
We'd definitely like to see her pull the trigger from midrange more often as well as from long range. She's taken three shots from behind the arc thus far, knocking down her first trifecta since the 2019 WNBA season with the Atlanta Dream. She showed a new facet to her game back then, finding the bottom of the net on 32% of her attempts (8/25).
At the moment, Marie is playing her role in a strong team, providing disciplined defense and reliable offense – exactly what WNBA teams will look to get from her in the future as well.

She'll definitely get the chance to take on more of a leading role and more responsibility in Spain, too. Just like she did in her first game with the bats, when she put up 15 points in 22 minutes against Casademont Zaragoza. She was able to string together a symptomatic sequence that showcases the defensive-minded pivot's character: In less than 16 seconds she first intercepted a pass to lay the ball in at the other end before blocking a layup in the subsequent possession.