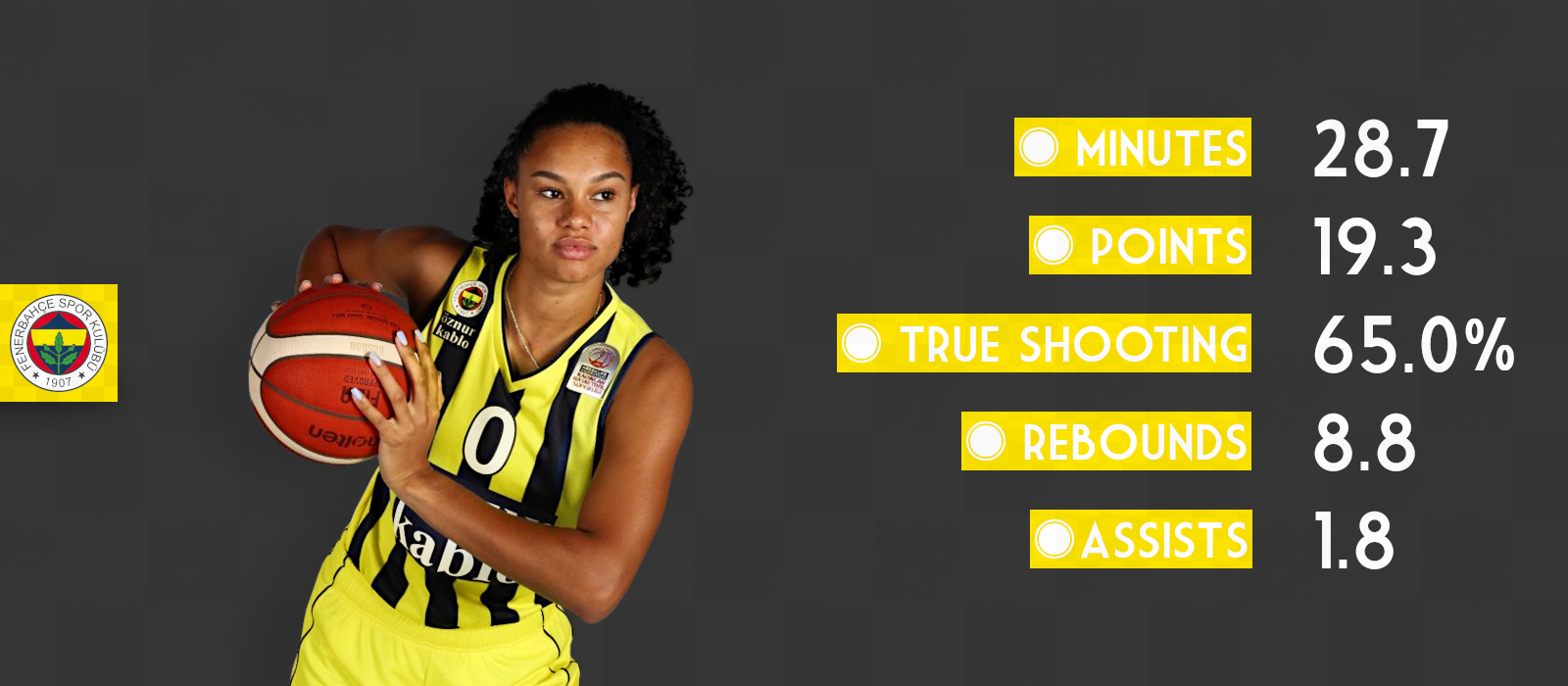 Picked second overall in the WNBA Draft and third in the "Rookie of the Year" race: Satou Sabally has already made a lot of noise in her first year of professional basketball. It didn't come as a surprise that the talented Dallas Wings player was highly rated overseas as well. In the end, one of the biggest names in European club basketball was able to convince her to join: The 22-year-old will spend her first season outside of Germany or the US with Turkish heavyweight Fenerbahçe Istanbul.

The New York native, who grew up in the Gambia and Berlin, was joined by a number of high-profile team-mates at the Bosporus: The yellow and blue jersey will also be worn by  Kayla McBride (Las Vegas Aces), Jasmine Thomas (Connecticut Sun), Kiah Stokes (New York Liberty) and Kia Vaughn (Phoenix Mercury). A flawless 7–0 start to their Kadınlar Basketbol Süper Ligi was the logical result of assembling a star-studded squad like that. Worth mentiniong that the Turkish top flight is the European league with the most active WNBA players, although the top stars are in Russia, mainly at Ekaterinburg.

If you take a look at numbers the former Oregon Duck is posting, there's one thing that should strike you: her efficiency. The wing was only able to convert 36.8% of her shot attempts (11.4 attempts per game), and she really struggled to find her rhythm from long range all season at 19.7% (4.1 attempts). After 16 games the true shooting percentage was at 50.5%, thanks to Satou's excellent free-throw shooting.
A change of scenery and a change in efficiency: In her first seven games, Satou's true shooting skyrocketed to 65.0% – despite a slightly higher volume (12.2 FGA) than in Dallas. She's now knocking down 36.8% of her three-pointers and shooting 53.4% from the floor overall.

It'll be interesting to see if the mediocre percentages in her rookie season were a slip-up or if she'll be able to maintain her much improved efficiency throughout the season in Turkey – and if she can carry these over back to Dallas. Satou's 19.3 points per contest are a team-high for Fenerbahçe Öznur Kablo right now. The arrival of scoring machine Kayla McBride, with whom she's only played once thus far, may shake up the distribution of shots a lot.
It is an absolute pleasure to see Satou capitalizing from her physical superiority by relying on her driving ability a lot. Her combination of length, physicality, speed and ballhandling is unique – hence the nickname unicorn. When the German international puts the ball on the floor, she's a force of nature that's fairly unstoppable – apart from fouls. She's drawn 5.3 per game as of now; if she plays 30 or more minutes, the number goes up to an even more impressive 7.3. And most importantly, she's able to convert these into points at the line on an elite level, as she knocks down 83.8% of her 6.2 tries from the charity stripe.

From time to time the young Dallas wing had minor struggles against veteran players. This is in part owed to her limited experience in her first year as a professional. She's about to face even better competition in the EuroLeague, which is scheduled to start December 1. Will Satou be able to continue her great run? Will her role in Fener's star-studded squad remain the same? How will she fare (on defense) against the crème de la crème of women's basketball? Many question marks behind which we're confident she'll put the one or the other exclamation point.